Turmeric has been used along with ginger for centuries in various parts of the world, including South and Southeast Asia, for its medicinal properties. Human studies have shown that taking these dietary supplements can have a positive impact on your well-being. Most studies have shown that using with turmeric and ginger supplements can reduce inflammation, joint pain and boost your immune function.
However, it may be difficult for some people to incorporate fresh ginger or turmeric powder into their diets to benefit from this ancient practice. For these people consuming ginger and turmeric in the form of a dietary supplement may be the best option.
Below, we provide our list of the best supplements that you can buy on the market right now!
Our List of Best Tumeric and Ginger Supplements
Qunol Tumeric Curcumin with Black Pepper & Ginger
Qunol Turmeric curcumin is made from turmeric root powder and contains 2250mg of curcumin and also contains 150mgs of ginger root powder and 15mg of Black Pepper Extract. The black pepper extract within the formula increases the body's ability to absorb the nutrients in the capsules.
This dietary supplement will have you feeling young by eliminating joint pain and reducing chronic inflammation. It is also beneficial for the body and skin and promotes a healthy inflammatory response. Qunol's Turmeric curcumin capsules are vegetarian and gluten-free. One disadvantage of Qunol is that the capsules may be too large for some users to swallow.
Benefits of Qunol
Contains Black Pepper Extract for better absorption.
Is vegetarian and gluten-free.
Contain 95% curcuminoids higher than many competitors.
Price
A bottle of 105 Qunol capsules costs $23.39 on Amazon.
My Take
I think this is a great option for people looking to try supplementing with turmeric supplements. It provides a good dose of ginger and turmeric extract and a fairly high dose of black pepper improving absorption. The only downside is if you have trouble swallowing then this supplement may not be for you.
Horbäach Tumeric and Ginger Supplement
The Horbäach Turmeric supplement comes in the form of quick-release soft gelts. If you want to incorporate the Ayurvedic tradition of taking turmeric then the Horbäach Tumeric and Ginger supplement is a great option. The recommended dose for the supplement is 3 soft gels per serving. Each serving provides 3000mg of curcumin made from turmeric root extract and ginger root extract as well as 1.5mg of black pepper fruit extract.
This dietary supplement is naturally free from a variety of allergens such as yeast, lactose, gluten, and artificial preservatives, and is non-GMO. This brand also contains black pepper extract to provide superior absorption. The Horbäach supplement is also standardized for 95% curcuminoids, is lab tested, and manufactured with high-quality ingredients.
Benefits of Horbäach
Is safe to use for users with several allergies.
Contains a high dose of curcumin per serving.
The soft gels are easy to swallow.
Price
A bottle of Horbäach costs $11.99 on Amazon for a bottle of 60 capsules.
My Take
This brand is fairly popular and always shows up when I'm looking for supplements. I think this is a good alternative to the first option on this list as the soft gels are easier to swallow. It also offers a slightly stronger dose of ginger and turmeric. The disadvantage of Horbäach is that it doesn't offer a higher dose of black pepper extract, but for the price you really can't complain.
Nature's Nutrition Turmeric Curcumin with BioPerine & Ginger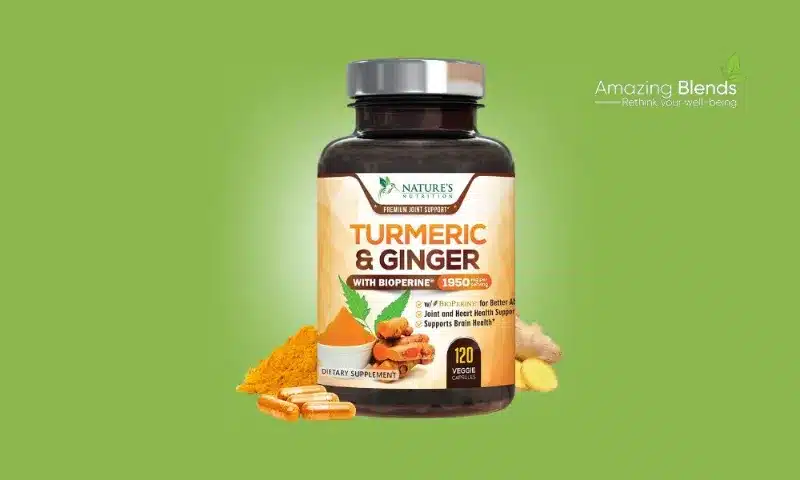 Nature's Nutrition dietary supplement offers a great way to reap the benefits of ginger and turmeric if you struggle to incorporate turmeric powder or fresh ginger into your diet. The brand's turmeric supplement provides 1950mg of the Turmeric Curcumin complex per serving (3 capsules). Each serving also contains 15mg of BioPerine, an extract used to increase the bioavailability of nutrients.
This dietary supplement offers relief from joint pain, improves gut health, and is great for those with heart disease. The Nature's Nutrition formula is vegan-friendly, non-GMO, and made with natural ingredients in a GMP-certified facility in the United States. The supplements are available in different strengths of 1950mg, 1500mg, and 100mg.
Benefits of Nature's Nutrition
Is vegan-friendly.
Offers various strengths for all types of users.
The product is third-party tested to ensure quality.
Price
One bottle of 120 capsules cost $18.42 on Amazon.
My Take
Nature's Nutrition is a great option for people looking for a vegan option. The review I read mostly spoke well of the product. However, some reviews said that the serving size on the bottle is a bit too high and may cause acid reflux and the capsule size may be too large for some people.
Nature's Base Turmeric Curcumin Supplement with Ginger
Nature's Base prides itself on crafting high-quality dietary supplements to help you improve your overall health. Their Turmeric Curcumin formula is a great supplement to reduce exercise-related inflammation and increase joint health. This dietary supplement contains apple cider vinegar and bioperine for maximum absorption of nutrients. Nature's Base only offers around 990mg of ginger and turmeric per serving of 2 capsules but offers 500mg of Apple Cider Vinegar, 10mg of Bioperin, and 5mg of Hawthorn Berry Extract.
The Hawthorn Berry Extract in the formula provides antioxidant benefits which are known to reduce inflammation and the Apple Cider Vinegar is great for your gut and can even help with inflammatory bowel disease in some cases. This dietary supplement is carefully processed in a GMP-certified facility. This product is also vegan, gluten-free, and GMO-free. The recommended dose is two capsules but the dosage can be adjusted after discussing with your healthcare provider.
Benefits of Nature's Base
Contains Apple Cider Vinegar and Hawthorn Berry Extract.
Is Vegan and gluten-free.
Is available in 60, 120, and 240 count.
Price
A bottle of 60 capsules costs $15.95 on Amazon.
My Take
I think the Nature's Base supplement is a good choice because it contains Apple Cider Vinegar and Hawthorn Berry Extra which is great. After all, you have to take one less supplement. It also isn't too harsh on your wallet.
KappaVita Turmeric Curcumin with Bioperine Ginger
The KappaVita Turmeric Curcumin supplement comes in beautiful minimalistic packaging and contains 1250mg of turmeric curcumin with 95% standardized curcuminoids. This dietary supplement also comes with 200mg of Glucosamine Sulfate, 10mg of Bioperine, and a bunch of other ingredients that can be found on the product packaging. The serving size for this supplement is 2 capsules. This is a well-rounded product that contains a variety of active ingredients, that help with your gut, joints, and inflammation.
KappaVita produces the turmeric supplement using Good Manufacturing Practices (GMP) guidelines. Unfortunately, this product is not vegetarian or vegan-friendly because it contains shellfish and rice flour. KappaVita also offers a 30-day money-back guarantee if you're unsatisfied with the product. The company recommends taking this product 20-30 minutes before a meal for best results.
Benefits of KappaVita
Contains Glucosamine.
Offers a money-back guarantee.
Contains a high dose of turmeric curcumin.
Price
You can buy a bottle of 90 capsules on Amazon for $18.78.
My Take
Kappa Vita's take on the supplement seems promising and with the added glucosamine you have one extra supplement crossed off your list. The reviews for this product seem good and it's easy to swallow. Bonus points for the great-looking bottle.
Viva Naturals Turmeric Curcumin plus Ginger Extract
The Viva Naturals Turmeric supplement is another good option for those looking for turmeric supplements. This dietary supplement will have your joints moving freely and relieve them of any pain making it a great choice for patients suffering from rheumatoid arthritis because of its anti-inflammatory properties. That's not all though as this supplement will also improve your cardiovascular health as it contains many antioxidant properties. A serving of 3 capsules contains 1450mg of ginger & turmeric and 15mg of black pepper.
If you thought I was done listing the health benefits of this product you would be wrong as it is also great for your gut health and is well-known in herbal medicine. This product is certified USDA organic and non-GMO. It is also suitable for people with gluten and lactose intolerances. Viva Naturals produces the supplement with high-quality ingredients and each batch is third-party tested.
Benefits of Viva Naturals
It is certified organic.
Contains higher amounts of black pepper for better absorption.
It does not contain any shellfish.
Price
A 90-tablet bottle costs $15.99 on Amazon.
My Take
The reviews for this product were generally positive, particularly toward relieving joint pain. The Viva Naturals formula is great for those looking for joint comfort.
Leefy Organics PRANA Liquid Turmeric Curcumin and Ginger Extract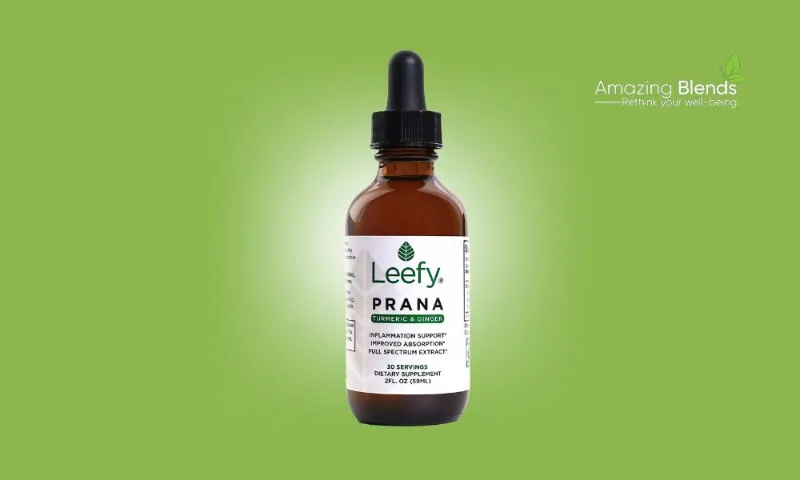 If you're unable to take the supplement in capsule or tablet form then the Leefy Organics Liquid Turmeric Curcumin is a great option for you. The suggested serving method is 2 drops of the liquid under the tongue and waiting 20 seconds before swallowing. This dietary supplement is great if you have trouble swallowing. The liquid form provides even faster absorption as the nutrients are quickly absorbed along the digestive tract.
You may be wondering what this supplement tastes like. Well, the Leafy Organics liquid is made with vegetable glycerin as an extract which gives it a pleasant, honey-like flavor. This sets it apart from flavorless turmeric capsules and tablets which can, frankly, be boring sometimes. This product will have you looking forward to the daily dose of turmeric supplementation.
The Leefy Organics Liquid Turmeric is manufactured in the United States in a GMP-certified facility. The liquid contains no artificial sweeteners, preservatives, or GMOs and is vegan, gluten-free, and organic.
Benefits of Leefy Organics
The liquid form provides faster absorption.
Tastes good.
Is a great alternative for users that have difficulty swallowing.
Price
The price of one bottle is $33 and contains about 30 servings.
My Take
I think this is a great option for people who have issues with swallowing pills and capsules. The great taste also makes it easy for you to implement this dietary supplement into your routine. I know I'd be looking forward to taking my supplements if they had a sweet honey-like flavor.
Carlyle Turmeric and Ginger Supplement
The Carlyle Turmeric supplement is a good option for those seeking a larger dose of ginger and turmeric. Each serving of Carlyle's formula contains 3000mg of ginger and turmeric and 1.5mg of black pepper extract which is a lot lower than the other turmeric supplements on this list. These turmeric capsules are made from vegetable cellulose and the serving size is 3 capsules.
This supplement is free from yeast, GMOs, lactose, artificial sweeteners, and artificial flavors. It is, however, not soy-free which is a shame. Carlyle also manufactures its supplements in a GMP-certified facility and the final product is packaged in the lab-tested in the US.
Benefits of Carlyle
Is good for a variety of dietary needs.
Offers a large dose of turmeric and ginger.
Relatively cheap.
Price
A bottle of 120 soft gels will cost you $9.99 on Amazon making it a great deal.
My Take
My take on the Carlyle Turmeric and Ginger supplement is that it offers an easy and affordable solution to turmeric supplements. It is also free from many allergens which makes it a great option.
Vimerson Health Tumeric and Ginger Supplement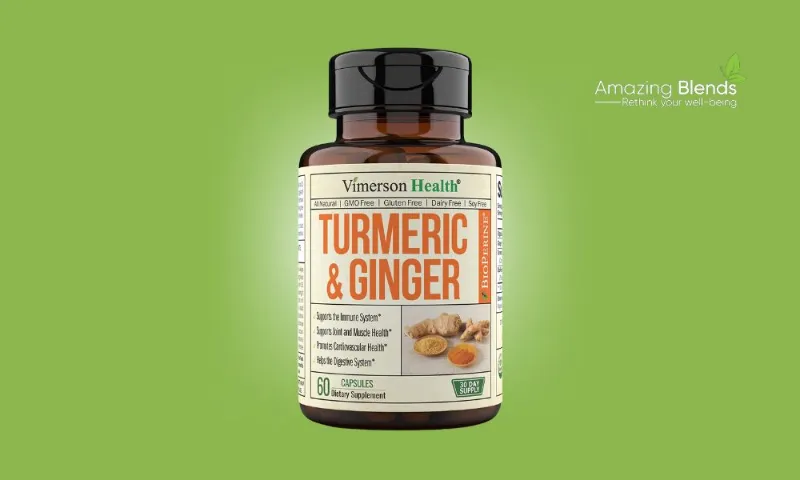 Lastly, we have the Vimerson Health Turmeric supplement. This dietary supplement is carefully crafted to reduce pain and increase joint comfort. Vimerson claims that its ginger extract is 4 times as potent as regular ginger making it a great anti-inflammatory supplement for your gut. A serving of 2 capsules provides 1300mg of ginger and turmeric with 95% standardized curcuminoids. It also contains 10mg of Bioperine for faster absorption.
The Vimerson Health supplement comes in a unique-looking bottle and is heavy-metals tested, something we haven't seen on this list, and also third-party tested ensuring optimal quality. The capsules are also manufactured in a GMP-certified facility and are lactose-free, sugar-free, soy-free, gluten-free, and vegan.
Benefits of Vimerson Health
Heavy metals tested.
Suitable for a range of allergies.
Capsules are small and easy to swallow.
Price
A bottle of Vimerson will cost you $23.77 for a 60-count bottle on Amazon.
My Take
This option offers a clean formula for a range of allergies and is also heavy metals tested. The only reason why it's at the bottom of the list is because it offers what most brands on this list do at a pretty steep price.
Frequently Asked Questions
Who shouldn't take ginger and turmeric?
Pregnant or nursing mothers should avoid taking turmeric and ginger supplement and should always consult their healthcare provider. Other people who should not use ginger and turmeric supplement are people who suffer from gallstones, liver disease, GERD, diabetes, or any other known medical condition.
Is it OK to take ginger and turmeric together?
Ginger and turmeric work together synergistically and have more benefits if used together due to their complementary properties.
What are turmeric and ginger pills good for?
The ginger in the pills can help you lose weight, lower bad cholesterol, improve brain function, and help with indigestion whereas the turmeric in the pills can help your heart health, improve skin health, and lower blood sugar levels.
What are the side effects of turmeric and ginger together?
While taking a turmeric ginger supplement is generally safe in low or moderated doses. Studies suggest that consuming curcumin, one of the components of this dietary supplement, in extremely high doses can cause adverse effects such as rashes, diarrhea, and headaches.
Conclusion
Keeping track of all the micronutrients in your diet can be difficult. It may not be possible to incorporate ginger and turmeric in your meals everyday and so taking the nutrients in supplement form is the next best option If you're looking to consume ginger and turmeric in the form of a dietary supplement then this list should offer you plenty of options for different price ranges. I hope you find this list helpful in the search for the perfect ginger and turmeric supplement.
As always when supplementing with anything it is important to consult a healthcare professional to make sure the supplement is safe for your body.