Black seed oil has surged in popularity in recent times. The oil itself goes by many names such as black cumin seed oil, and kalonji oil. Taking black seed oil has been proven to have many health benefits and can be used to treat asthma, balance cholesterol levels, cure certain skin conditions, and improve the overall wellness of your body by promoting a healthy inflammatory response, supporting digestive health, lowering blood pressure, and improving immune health.
Choosing which brand of black seed oil to go for can be a tricky choice so we've combined our list of top 9 oils for you to choose from.
Our list of best black seed oil capsules
Amazing Herbs Premium Black Seed Oil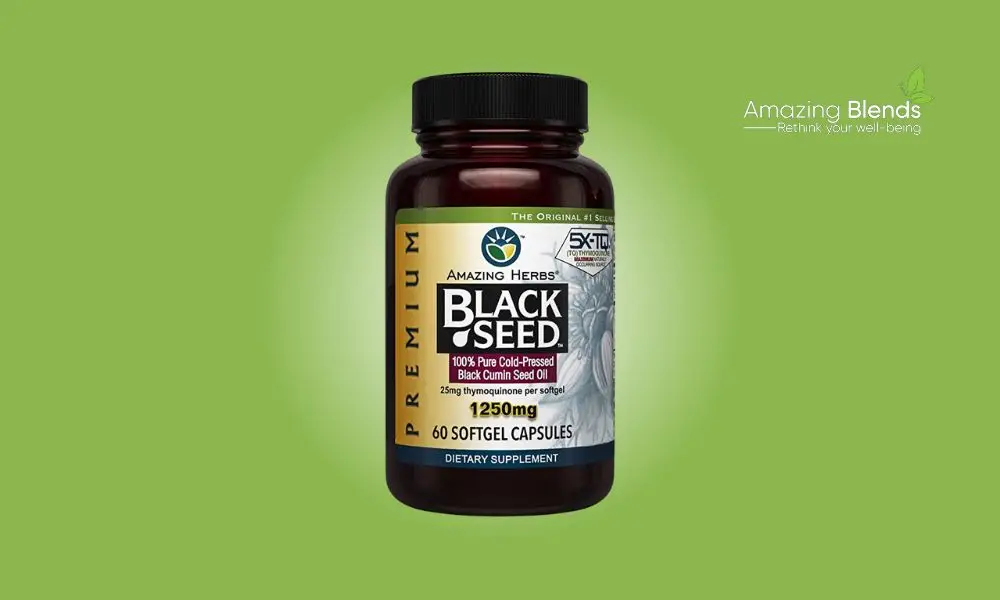 This option is a great way to get your omega fatty acids and thymoquinone. These nutrients are essential for having a healthy immune response. Each pill of Amazing Herbs contains 500 mg of black cumin seed oil with 90 pills in the bottle. This brand offers a high-quality synthetic-free product that contains organically grown, pesticide-free, and GMO-free ingredients.
The company uses a gentle cold-pressed method to extract the oil from black seeds, which helps to preserve the antioxidants and retain a higher level of nutrients. The company is a pioneer in black seed health and nutritional supplements, Amazing Herbs was one of the first companies to introduce black cumin oil in the United States.
Benefits of Amazing Herbs
Easy to swallow capsules.
Is available in oil form if you're allergic to the gelatin in the pills.
This product is made by a local small business.
Price
A pack of 90 capsules costs about $21.84 on Amazon.
My Take
I think this brand is reasonably priced with a price of 24 cents per pill and offers the usual concentration of 500mg per cap of black cumin seed oil making it a reliable mid-price option for those seeking to benefit. The oil form makes a good substitute for pills if you're allergic to gelatin.
NutraChamps Black Seed Oil
This brand offers a certified organic and cold-pressed black seed oil supplement that contains 120 vegan capsules per bottle. Each capsule contains 700mg of black seed oil and is an excellent source of thymoquinone (TQ), thymohydroquinone (THQ), and Omega fatty acids, which help promote immune function and overall health.
These soft gels are perfect for people with gelatin, gluten, or soy allergies as they are organic, vegan, and non-GMO. NutraChamps is lab tested and made in the USA with premium ingredients, ensuring that they meet high manufacturing standards.
Benefits of NutraChamps
The soft gels are Vegan, Gelatin, Gluten, and Soy free.
Little to no bad aftertaste.
Is certified organic.
Price
A pack of 120 soft gels costs about $17.95 on Amazon.
My Take
NutraChamps offers a mid-level strength product for the cost of 15 cents per unit making it an affordable option for people looking to switch to a slightly stronger product but aren't ready for the heavy doses and their unpleasant side effects.
Triquetra Black Seed Oil Capsules
These black cumin seed oil capsules contain a 20% concentration of Thymoquinone (TQ), the active nutrient in black seed oil, providing 50 mg of TQ in one capsule. This is one of the highest levels of TQ on the list making it a rich source of the nutrient.
Triquetta's black seed oil is traditionally extracted from nutrient-dense nigella sativa seeds using the cleanest CO2 extraction process in contrast to the cold-pressed oil, in fact, it is the only product on the list that is not cold-pressed. These capsules are quite strong and are intended to be taken with food.
The company's TQ-Advanced 4X extract is non-GMO and vegan friendly and is filler, dairy, preservative, and soy-free. Their product is also 3rd-party tested for over 100+ contaminants and microbial and is produced in a GMP-regulated facility in the United States.
Benefits of Triquetra
Very potent with a high amount of Thymoquinone.
Vegan and allergy friendly.
Uses CO2 extraction instead of cold pressing.
Price
A pack of 60 capsules costs about $24.99 on Amazon makes it slightly pricier.
My Take
After reading the product labels, I believe this brand is for people who have been taking the supplement for a while and looking to further maximize the oil's effects. At 42 cents per pill, this is the high-end option.
Horbäach Black Seed Oil Soft Gel Caps
Horbäach offers cold-pressed quick-release soft gels for those seeking the benefits of black seed oil. This supplement is a good way to get your Omega 6 and 9 fatty acids. Each soft gel contains 1000 mg of black seed oil. The company is dedicated to providing premium and clean supplements to support your digestive health. The product undergoes thorough lab testing and is made with trusted ingredients, ensuring that various factors are met before the product is sent off for consumption.
These soft gels do not contain any yeast, gluten, lactose, GMOs, artificial sweeteners, or preservatives. This makes Horbäach a great option for those with many allergies and food intolerances. Unfortunately, the product does contain gelatin and is not vegan-friendly.
Benefits of Horbäach
Offers value for money.
Easy to swallow soft gels.
A good option for lactose intolerant people.
Price
A bottle of 120 soft gels costs $15.49 on Amazon.
My Take
I think this brand offers a really good bang for your buck with 1000mg caps for just 13 cents per unit.
Healths Harmony Black Seed Oil
If you're thinking of consuming black seed oil and are worried about the foul aftertaste, Healths Harmony's soft gel capsules are specifically engineered to leave no foul taste and are easy to swallow. They are made from cold-pressed nigella sativa and combined with natural vitamin E making each capsule contain 500mg of black seed oil. This supplement can be used to increase melanin production to maintain healthy skin, keep your hair healthy and boost your immune system function.
These soft gel capsules are vegan and Non-GMO and are made in a GMP-certified facility to ensure strict quality assurance standards are met. The capsules are filled with Health Harmony's formula along with nitrogen to ensure the black seed oil does not come in contact with oxygen potentially spoiling the product.
Benefits of Healths Harmony
Easy to swallow and has no foul aftertaste.
Is good for someone whose looking to try black seed oil.
The capsules also contain vitamin E.
Price
A bottle of 120 capsules costs $16.97 and is intended to be 60 days' worth of supply.
My Take
This brand is a decent beginner option at the cost of 14 cents per pill and contains vitamin E eliminating the need to take extra pills.
Nature's Nutrition Premium Black Seed Oil
This brand contains 1000mg of naturally sourced black cumin seed oil in each serving (2 pills). This company also cold-presses the Nigella Sativa herb to obtain its capsules. Nigella Sativa, also known as black cumin seed, provides natural immune support, joint support, weight loss, and digestive support. The other ingredients include powerful antioxidants such as Omega 3, 6, and 9 fatty acid proteins to support hair and skin health.
Our black cumin seed oil capsules are free from GMOs, vegan, and formulated in an easy-to-swallow, premium liquid soft gel capsule and are intended for anyone who wants to benefit from this amazing herb. The pills are made following cGMP guidelines and each batch is third-party tested to guarantee purity.
Benefits of Nature's Nutrition
Great price point for new users.
Third-party tested for purity.
Follows cGMP guidelines for rigorous quality testing.
Price
The cost is only $9.82 for a bottle of 60 pills making it an affordable option.
My Take
This is another great beginner option at this price point which offers great value at 16 cents a pill and is allergy friendly.
Simple Organica Black Seed Oil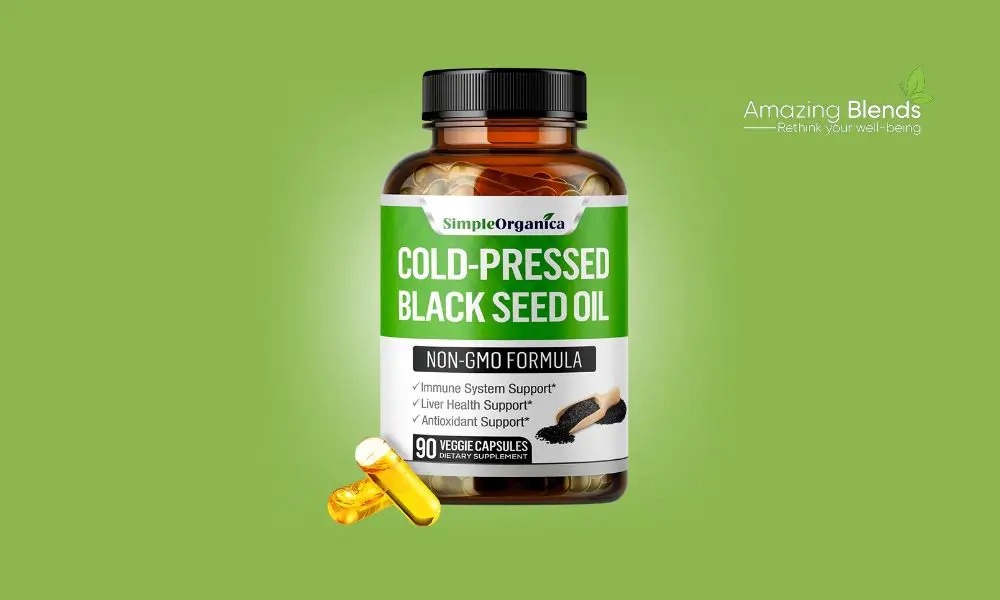 Simple Organica Black Seed Oil is a cold-pressed black cumin seed oil that is rich in antioxidants that help balance cholesterol levels, promote a healthy inflammatory response, and improve skin and hair health. Each bottle contains 90 liquid caps, with 1000mg of premium black seed oil per serving (2 caps).
Simple Organica delivers a high-standard and trustworthy supplement manufactured in cGMP-complaint facilities in the United States. The company factors the risk of cross-contamination in its production process and only manufactures its products in FDA-regulated factories. This black cumin seed oil is vegan and has no GMOs, and is gluten-free.
Benefits of Simple Organica
Good mid-price option.
Not too strong for beginners.
Is made in cGMP and FDA-compliant facilities.
Price
Simple Organica costs $16.95 per bottle.
My Take
I think this is a decent option however it does have a bit of an aftertaste and smell to it according to customer reviews. This option will set you back 19 cents per pill.
Zhou Black Seed Oil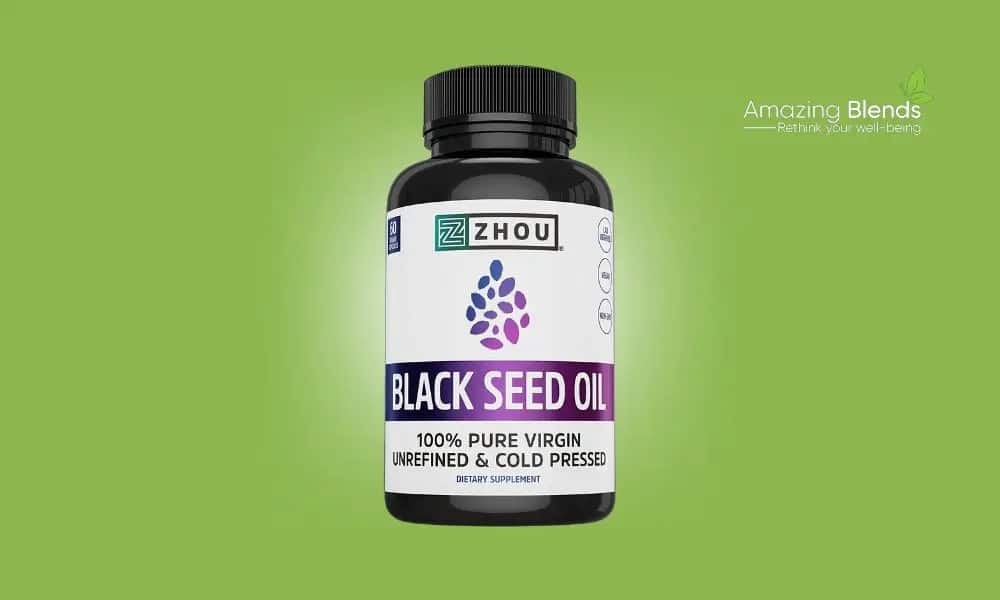 These black cumin seed oil capsules support immune health thanks to their potent 100% pure, cold-pressed caps. This black seed oil is full of antioxidants such as nigellone and thymoquinone helping you boost cell activity, keeping your immune system strong, and promoting a healthy inflammatory response. The company offers the product in both veggie capsule form and organic liquid oil form. Each pill has 650mg of black seed oil.
Zhou's facilities are GMP-complaint using the highest standard of ingredients. Its labs are based out of Utah in the United States. Their product is certified vegan, free from GMOs, and gluten-free
Benefits of Zhou
Great for people with celiac disease.
Mild Strength
Available in oil form if you have difficulty swallowing.
Price
One bottle of Zhou's capsules cost $16.99 for a bottle of 60 caps.
My Take
This is a good midstrength option which is also available in oil form. However, the oil does not come in a glass bottle if you want to avoid plastics.
Blossom Nature Cold Pressed Black Seed Oil
Blossom Nature's cold-pressed black seed oil caps are potent and offer great value with 500mg of pure virgin black cumin seed oil per capsule with each bottle containing 120 caps. These caps are easy to swallow and leave little to no bad aftertaste.
This supplement also contains amber-hued oil with numerous vitamins and essential minerals to support your body. Blossom Nature also offers a unique unconditional money-back guarantee. Their product is vegetarian-friendly, however, is not vegan-friendly and contains gelatin making it unsuitable for people with allergies. It is manufactured in the United States following GMP guidelines.
Benefits of Blossom Nature
Easy to swallow.
Includes daily vitamins and minerals.
Vegetarian friendly.
Price
One bottle of Blossom Nature costs $24.99.
My Take
I believe this product offers a decent mid-price option for the usual strength however it isn't vegan or gelatin-free.
Frequently Asked Questions
Can you take black seed oil capsules every day?
Most guidelines recommend taking 1000mg to 1500mg every day for up to 3 months. However, it is always best to consult a healthcare provider before supplementing with any product.
What are the side effects of black seed oil capsules?
Black seed oil can cause skin rashes in some people and sometimes cause an upset stomach, constipation, and vomiting. It is also important to consult with your doctor if you are currently suffering from kidney issues as black seed oil could further complicate these problems.
What effect does it have on sleep?
Black seed oil has been shown to help you sleep better by reducing the number of sleep disturbances. It works by increasing tryptophan levels in the brain which promotes the synthesis of melatonin and serotonin.
Who should avoid black seed oil?
Pregnant women and children should not take black seed oil.
Conclusion
Whether you're someone who's a beginner or an advanced user of kalonji oil. It is important to find the right product that can help you achieve the goals you have for your body. We hope these 9 brands of black seed oil help you with your decision. As always when supplementing with anything it is important to read labels and the information on the actual product packaging when deciding.